Goal | Objetivo
Event to disseminate main topics approached by Neptunus project, present proposals on how the seafood sector can mitigate the impacts and adapt to climate change challenges and discuss together with industry stakeholders about what additional responses are needed to address the climate challenge.
The event will have simultaneous interpretation between Portuguese and English.
Evento para divulgar os principais temas abordados pelo projeto Neptunus, apresentar propostas de como o setor do pescado pode mitigar os impactos e adaptar-se aos desafios das alterações climáticas, e discutir com entidades do setor sobre que respostas adicionais são necessárias para enfrentar o desafio climático.
O evento terá tradução simultânea entre português e inglês.
Register here I Registe-se aqui
Deadline 23 May | Inscrições até 23 maio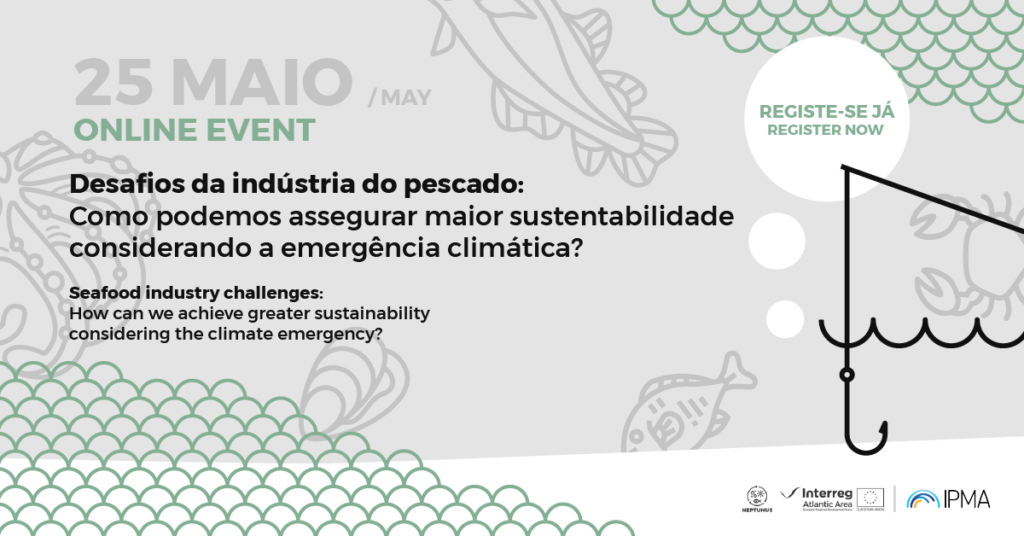 Programme I Programa
9:00-9:10 | Opening – Abertura
António Marques – Instituto Português do Mar e da Atmosfera (IPMA)
9:10-9:30 | Contribution of seafood production to climate change – Contribuição da produção de pescado para as alterações climáticas
Cheila Almeida – Instituto Português do Mar e da Atmosfera (IPMA)
9:30-9:50 | Life Cycle Assessment (LCA) methodology application, environmental footprints, and environmental product declarations (EDP)- Utilização da metodologia de Avaliação de Ciclo de Vida (ACV), pegadas ambientais, e declaração ambiental de produtos (DAP)
Jara Laso – Universidade da Cantábria (UC)
9:50-10:10 | Experiences of eco-certification of seafood products in fisheries in north-western Spain – Experiências de certificação ambiental de produtos da pesca do noroeste de Espanha
Maria Teresa Moreira – Universidade de Santiago de Compostela (USC)
10:15-12:00 | Roundtable: Challenges for the seafood sector in climate change mitigation – Mesa-redonda: Desafios para as empresas do sector do pescado na mitigação das alterações climáticas
Moderator I Moderador – Cheila Almeida (IPMA)
Sónia Olim – Associação de Armadores de Pesca da Fuseta (AAPF)
Fábio Barroso – Associação Portuguesa de Aquacultores (APA)
Pedro Bastos – Nutrifresco
Vítor Lucas – Lugrade