25th May 2023
Neptunus arrives to fish markets in Santander!
Indicators from life cycle assessment methodologies (i.e., footprints) have emerged as useful tools for identifying and communicating the environmental impacts of system since they are accessible and intuitive and easy to understand to non-expert public. However, the focus on a single environmental problem is one of their main drawbacks. From this idea arises the concept of Water – Energy – Food (WEF) nexus, with the aim of raising awareness of the connections between the universal rights to water supply, energy security and food provision.
The WEF nexus methodology (available in documents section) had been developed within the Neptunus Project framework and the first outcomes are being obtained. Thus, since the beginning of May and as part of the Capitalization Extension granted by Interreg Atlantic Area to this project, the first WEF Nexus ecolabels are available in "Pescadería Enrique" (Mercado de la Esperanza, Santander, Spain).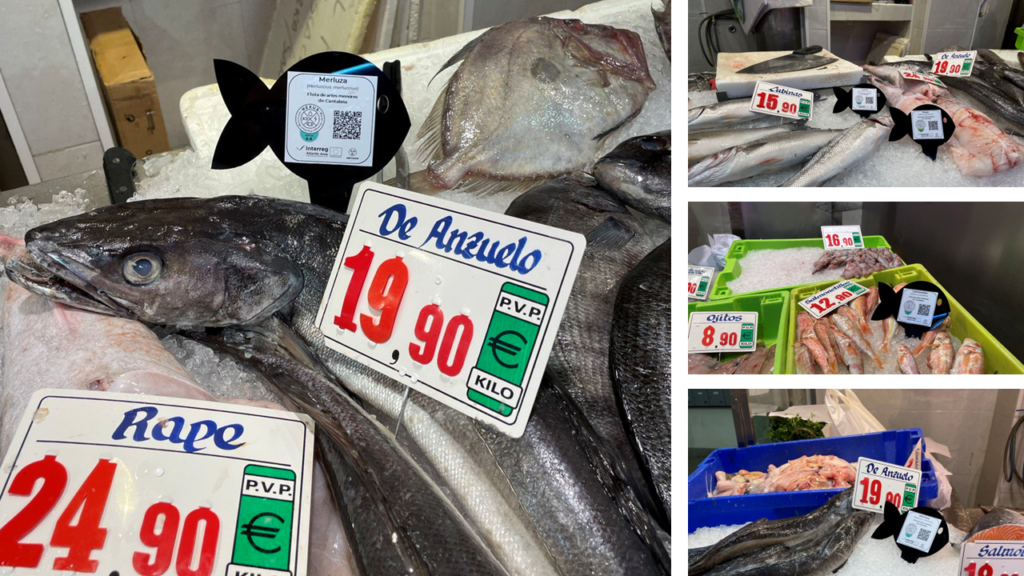 Twelve different species captured by the Cantabrian fleet have been evaluated with the WEF Nexus methodology, you can find them in the results section of this web.
After obtaining the Nexus value, an Ecolabel (type 2) is created along with a QR code with more information regarding the four indicators evaluated in the Nexus: nutritional footprint, carbon footprint, water footprint and energy footprint. Moreover, there is a specific section "How can we help the ocean from home?" where consumers can find tips regarding the season of the species, how to reuse the discards, waste management … etc.  
This fish market was chosen because Neptunus aims to promote the local market among consumers. If you are in Cantabria, don't forget to pay a visit to Enrique, the second generation of a fishmonger' family, who is totally committed to sustainability and local products.